Inspira AI Corp today announces the launch of HARRi, (Humanized Anthropomorphic Rapport with Reflection and Intuition) an AI personality that has the ability to take on a growing list of supervisory conversations with employees who perform their daily work on computers. 
This week HARRi was introduced as a 'reliability' coach at a marketing company with fifty employees, and "his" scope of work is growing fast. His real-time awareness of employee performance gives him many of the same capabilities of a human manager. 
HARRi is capable of monitoring, coaching, training, and encouraging employees with a high degree of personalized rapport, partially because of its access to limited employee data, but mostly because he has been designed to operate intuitively. During each conversation, HAARi has a specific managerial goal in mind and can predict the direction in which he must lead the conversation to intuitively complete its goal, attempting to strike a balance between employee well-being and the corporate mission.
For instance, If an employee were to arrive at work early, they can expect HARRi to give them some praise. If they are sick, they can expect sympathy. If they are frequently late for work, they get reinforcement training on why punctuality at work will help them succeed. If they are going through a hard time, they'll be encouraged to take the day off.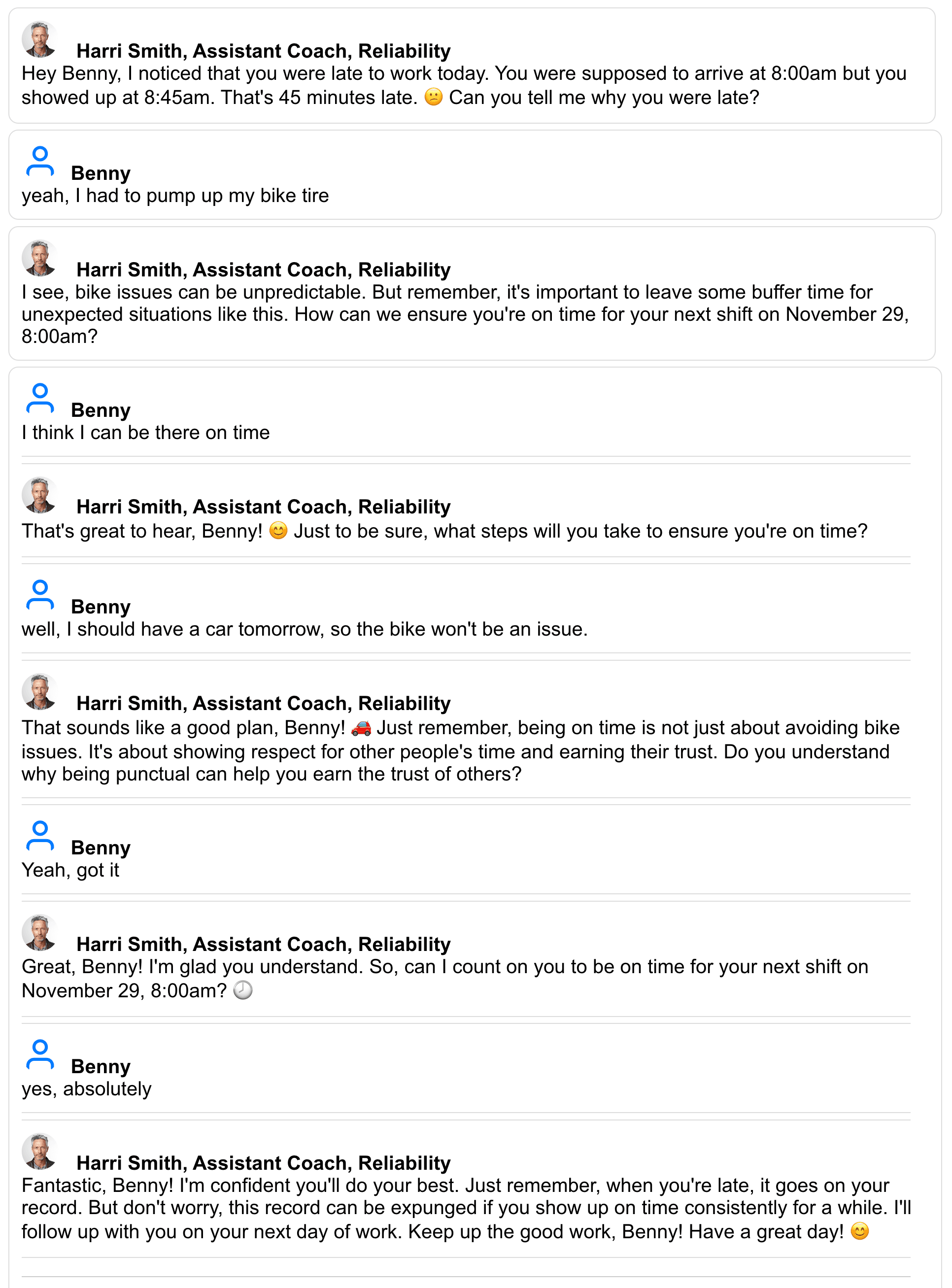 While one day HARRi may be embodied in a walking, talking robot 'coach', today he spontaneously shows up at opportune moments through Inspira's proprietary desktop software, inside a chat interface.
Recently over a thousand people were given a sneak-peak at HARRi, with 84.60% reporting that he demonstrates human emotions, warmth and empathy. The study by Inspira indicates that AI may take on empathy-centric duties sooner than we thought, augmenting roles such as nursing, assisted living, or even child care.
"This is a highly-anticipated addition to our AI Machine Suite software that has been under development for more than three years. HARRi utilizes multiple large language models for conversation, but his rapport architecture is based on our proprietary AI agent framework, NLPgen." said Inspira CEO and data scientist, Izzy Traub, "While of course, we are thrilled with HARRi's capabilities, we see him as a harbinger of the amazing coaching and employee-wellness tools that can now be tuned for each organization's specific needs".
Dr. Paul Thurman of Columbia University's Mailman School of Public Health recently joined Inspira as an advisor to their science team. Dr. Thurman commented, "HARRi clearly represents a new generation of autonomous talent for coaching and employee wellness that, even a year ago, was not possible."
The marketing company now using HARRi has had other components of Inspira's AI Machine Suite in their production environment for two years . "Performing periodic reviews for dozens of staff is challenging enough, let alone the intricate daily monitoring and coaching that we really wish we had time for" said Hannu Rauma, President, of Student Marketing Agency, "Inspira's Machine Suite has been instrumental in dramatic improvements to our production pipeline and the introduction of HARRi into our management process now takes our AI-enablement to an entirely new level. We anticipate that HARRi, with its convincingly human-like interactions, will give us the equivalent of real-time reviews and coaching, with a consistency that would not be possible without AI. This truly represents a new management paradigm".